No, we're not magicians and we don't have the world's only perfect kids. Traveling as a family isn't easy. The picky eating, mood swings and foot stomping don't just magically stop when you're on a plane or staying in a hotel.
But, even still, instilling a love of travel in our kids is so important to us and, if you're reading this, it's probably important to you, too. Traveling gives little ones the opportunity to learn about new places in this great, big world. And, even more importantly, it teaches them that we're all the same even though we're all so very different… lessons I think Jeffrey and I are still learning, too. And, while Eliza is happy to tell you, "I not like that" about just about anything that isn't ice cream (so maybe she's still got a while before she develops a taste for international cuisine), I think she's slowly learning more about the world around her by getting to know other kids in neighborhood parks, one slide turn at a time.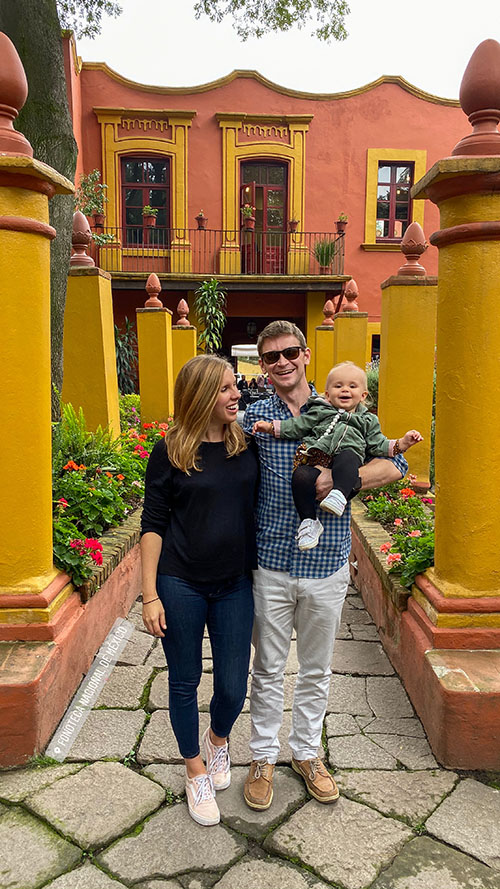 So, while I can't give you a secret that makes your baby stay quiet on an airplane, we do have a few favorite tricks up our sleeve and items to make the travel days a bit smoother:
Brush up on your airline's rules about family boarding. Southwest allows families to board after all of A-group has boarded whereas other airlines, like Delta and American, allow families traveling with young children to board just after priority/First Class. Take advantage of being one of the first ones on the plane: your toddler can take his/her time walking down the aisle and you get first dibs on the overhead bin space!

Be prepared for pressure changes in the plane's cabin at take-off and landing. The pressure can make your ears pop but can be a little scary and uncomfortable for a little one who doesn't know to expect it. If they're sucking on something (a paci or a bottle), they're less likely to feel the pressure changes.

Consider requesting one of the bulkhead seats with a (free-of-charge) on-board bassinet (make this request before day-of travel by calling your airline). Most international flights only have 2 or 3, but they come in handy if you have a little baby who's willing to sleep wherever (not great for picky sleepers). Keep in mind you can't have the baby in the bassinet during take-off, landing or when the seatbelt sign is on because of turbulence.

Pack a zip lock bag of children's medicines in your carry-on. We personally pack Mylicon, Infant's Tylonol and Children's Benadryl. Fun fact: a friend's mom told me to always have Children's Benadryl handy in case you suddenly find out your child is allergic to something. We ended up using Benadryl when Eliza was mysteriously allergic to Colombian blueberries (extra weird since blueberries are one of her favorite foods).

And finally: toys! I have one carry-on backpack that I use to carry-on my laptop, a few essentials for myself and as our family's travel-day diaper bag. Toys don't get to take up a lot of space in my bag but I find that introducing a new toy as a surprise is always a good idea. Just be sure it's from the dollar store because I can't tell you how many toys we've accidentally left behind on trips…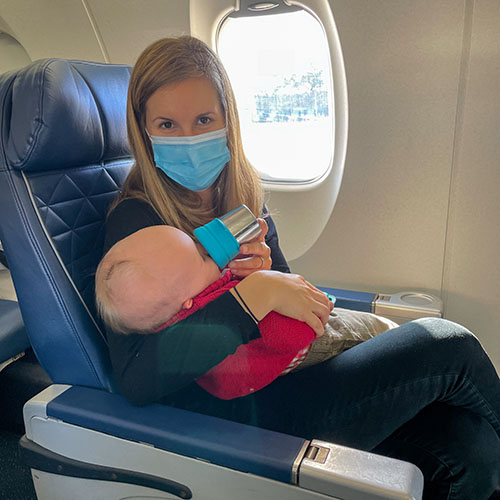 The most important things to us are items that pack up small + light and we know we need + can't buy once we arrive at our destination (we always buy diapers, wipes + formula once we get to where we're going!). Here's the thing: people all over the world have babies, so you'll never go to a place where they don't have diapers, even if it's not the brand you love from home.
Below, we've listed many of the items that have helped us on our travels, grouped by little babies (under 12 months) and toddlers. Of course, what works for one family (or one child) may not work for every family and every child, but we found success with each of the items listed below.
Infants (ages 0 – 12 months):
People were shocked (maybe also horrified?) when we took Eliza on her first flight at age 4.5 weeks and her first international trip when she was 8-weeks-old, but, honestly, I find traveling with tiny babies super easy because they sleep all the time and don't care if they're on a plane, train or on a sofa at home.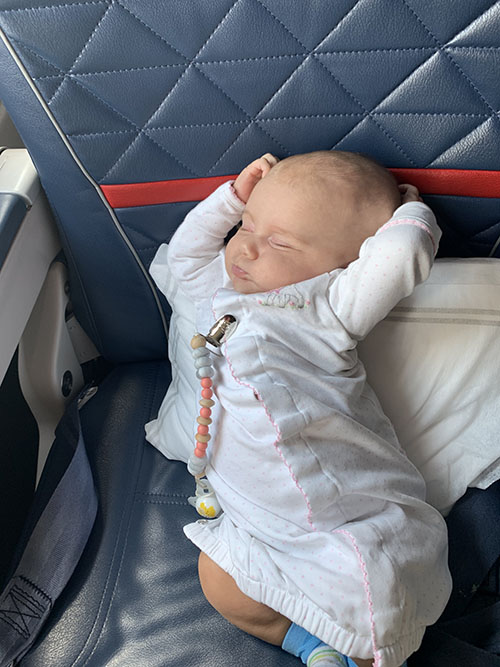 Nuna Pipa Car Seat (with travel bag): We knew we'd be traveling a good bit in the first few months while Eliza was still using an infant car seat, so we decided that paying a little more for the Nuna Pipa car seat was well worth it for us. This car seat is one of the lightest infant carriers and the absolute best part about it is that it does not need a base to hook into a car (note: the Pipa Lite is slightly lighter but does always require a base). Being able to use just a seat belt to strap the car seat in makes traveling in Ubers, friends' cars and even planes much easier. The Nuna Pipa has been a huge help for us when we're at home but especially when traveling! Plus, we found a cheap-o carrying case to use when checking or gate checking the car seat. (Bonus: we've used the same car seat + carrying case for both children and they're still in great shape. The 2018 version of the Nuna Pipa says it lasts for 7 years from date of purchase.)

One note: some people don't travel with car seats and just rent them from car companies if needed. For us, we like knowing and trusting the car seat for the very littles and, honestly, depending on a rental company to actually have a carseat upon arrival seems a little silly to us (plus that per-day rental price really starts to add up).
Maxi Cosi Stroller: We went with the Nuna stroller for bumpy, uneven Charleston streets at home but didn't want to gate check a nice stroller only to find it had been broken or damaged under the plane upon arrival. So, we bought a cheap-o Maxi Cosi stroller base that has included attachments to hook the Nuna car seat straight into it (note: the Maxi Cosi attachments work for the Nuna Pipa car seat). It isn't the smoothest ride, but it's so easy to use in the airport and past security and then gate check that stroller at the end of the jet bridge. We've found this combo to be the best for traveling with a very young child because it's an easy car seat + stroller option that packs up lightly.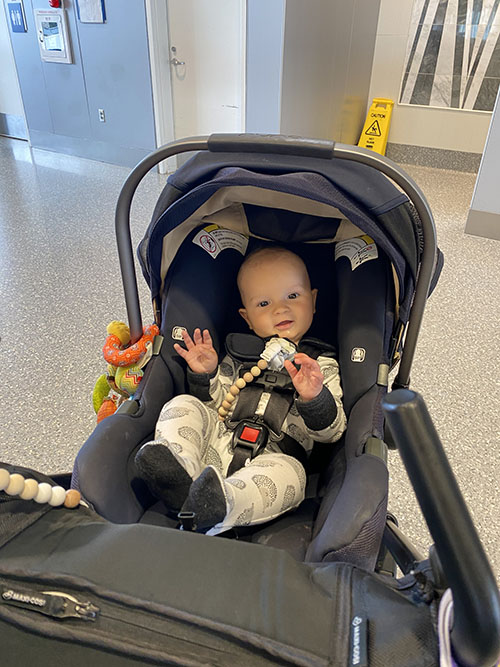 Brica Fold n Go Travel Bassinet: We've used this very small "crib" on the beach + traveling. I think they outgrow this by about 6 months, but, if they are really small, it's an easier and more managable option than packing a huge pack n' play (this is so small that I just pack this in my suitcase!).
Lotus Travel Crib: Once your baby can no longer fit in the travel bassinet, we graduated to the Lotus Travel Crib, which easily packs up much smaller than other pack n plays do. This comes with its own travel case and we've just checked this with our other luggage. Keep in mind that most hotels and many Airbnbs will offer cribs, but, on some trips, we just like to bring our own – for cleanliness reasons and/or safety reasons [when I feel the baby is too small to be smothered in the blankets that accompany some provided cribs!].
Lille Baby Carrier: This carrier is amazing. I haven't tried many other ones, but no real need to because it fits a 2.5 year old almost as easily as it fits a newborn and all sizes in between. We've successfully hiked up plenty of mountains carrying either Eliza or Davis in ours and it's high on my list of recommendations for a hands-free option for baby.
White Onesies: You can never have enough white onesies. Before I had a baby, I read somewhere that someone traveled with extra white onesies and if there was an accident she just threw it away. I thought what a waste that was, but, when you have a bad accident on a plane, it's a huge relief to just throw away the clothes and start fresh. So, while I don't recommend this practice all the time, I think traveling in white onesies is super helpful on plane days. And, while I don't always dress my babies in white onesies, there are plenty of times I have regretted that they weren't wearing something "disposable"…
One note: planes can get cold, especially for little ones. So, I'd recommend the long-sleeved onesies for travel days!
And, for good measure, here's Baby Eliza + Baby Davis's favorite travel paci… certainly a must-have item in our household!
Don't forget the attachment string (don't want that paci falling on the airplane's floor…)!
Ages 12 months through Toddler-hood:
WayB car seat (12 months +): We found this lightweight and easily foldable car seat and started using it when Eliza outgrew the Nuna car seat. It's FAA-approved and people on flights with us (even the flight attendants) always want to know what car seat this is. It's very pricy, but so much easier to travel with and we figured we would get a lot of good use out of it.
Another Car Seat Option: Cosco Scenera Next Convertible Car Seat: The WayB car seat is super compact but also super pricey. If you don't travel enough to deem it worth the extra cost, we recommend the Cosco Scenera. It's a little bulkier than the WayB but also gets the job done, is super lightweight and easily buckles into a car (quickly, too, which is important when impatient Uber drivers are waiting on you…). Running just $60, we used this affordable car seat before splurging for the WayB and also, now, as our second car's everyday car seat.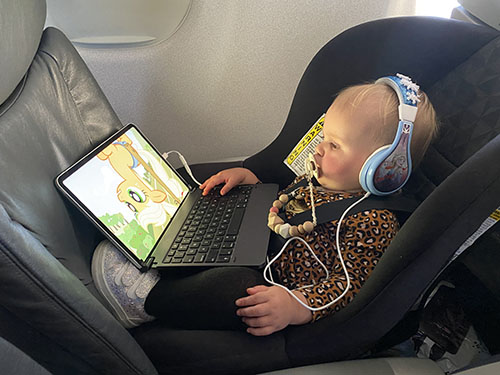 Babyzen Yoyo+ with ride-along attachment: I would say we've gotten the most questions about our travel stroller and I would also say this would be our top travel investment. We've used this stroller since Eliza was just over a year old and we found out we were having another baby! We sold the Nuna stroller (it can't convert to a double) and bought this instead. It packs up SO tiny and fits in every plane's overhead bin.
Once Davis was outgrowing the Nuna car seat + Maxi Taxi stroller option, we also bought the Yoyo ride-along attachment (great for kids who can easily sit up on their own and *hold on*) which easily hooks on the back and gives Eliza a place to sit (or stand!) while Davis is strapped into the stroller. If Eliza is tired, we strap Davis in the carrier and put Eliza in the stroller. With one child or two, this Babyzen stroller is truly a lifesaver.
Inflatable bed rails: Eliza now sleeps in big girl beds and these inflatable bed rails are amazing. They pack up so small and only take 9-10 breaths to blow up. You can pop them under the sheets and know that she's staying in bed all night long, so 2 thumbs up from us.
Headphones: We realized the wonders of in-flight TV when Eliza was about 18 months old and we haven't looked back. She looks forward to riding on planes so she can watch TV and these headphones are fantastic to hook into an iPad or sometimes the plane's system. Linking some awesome teal + purple ones below that Eliza has (although she also has a Frozen set that she's a big fan of, too!).
Inflatable Swimmies: Headed to the pool on vacation but don't want to pack all your swim gear? These inflatable swimmies work great and are easy to throw in the bottom of the suitcase. I still stay right next to Eliza but these give me more peace of mind than just letting her jump in the pool without any swimmies or floats.